Please note changes to our North Munster League Fixtures.
New St Colms Training Tops, t-shirts, hoddies and sweatshirts are now available. Have a look at our merchandise page for more details.
Samples of gear are available every Wednesday in CBS from 18:00 to 19.30 if you would like to have a look. Next gear order will be mid-January.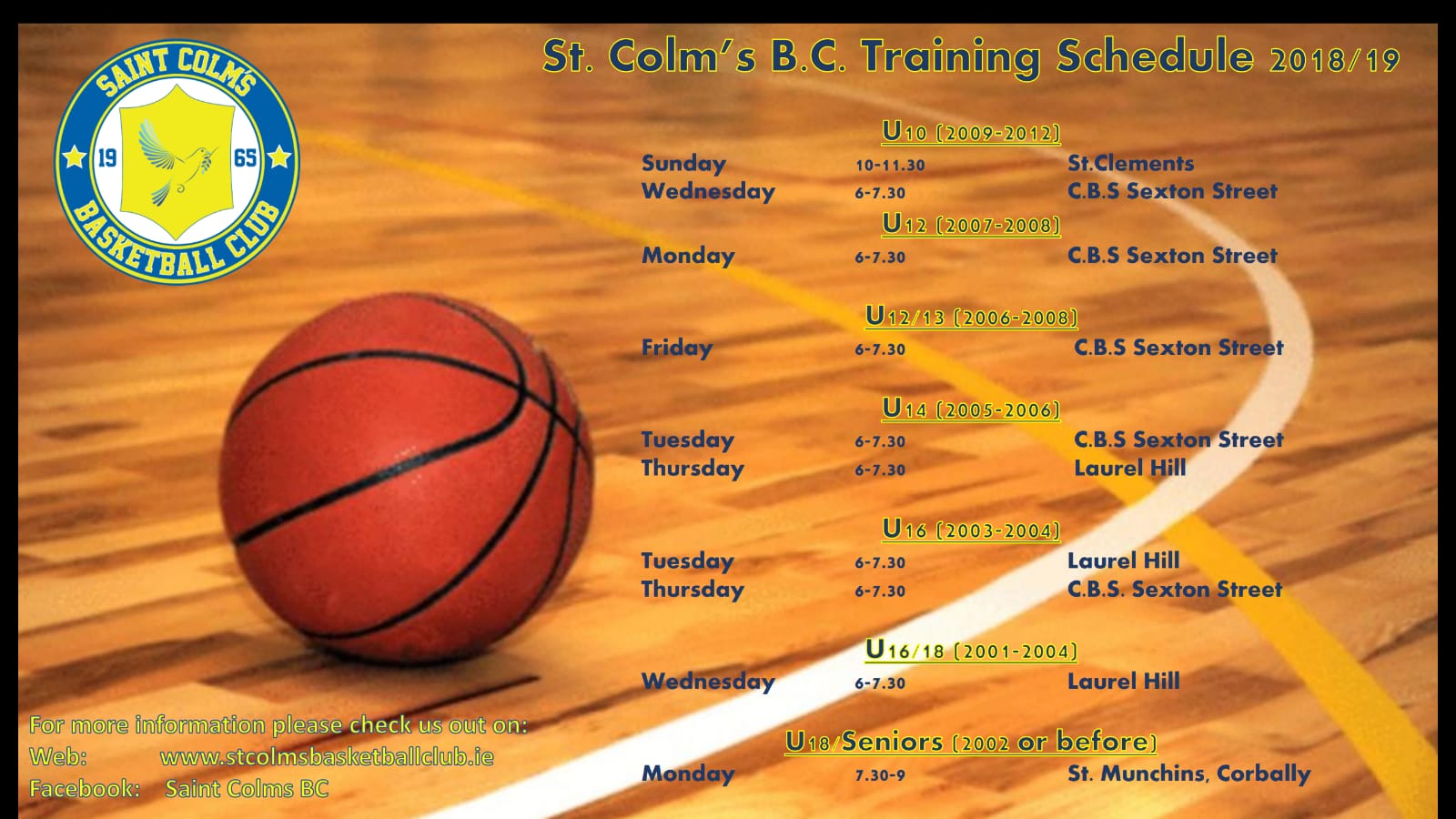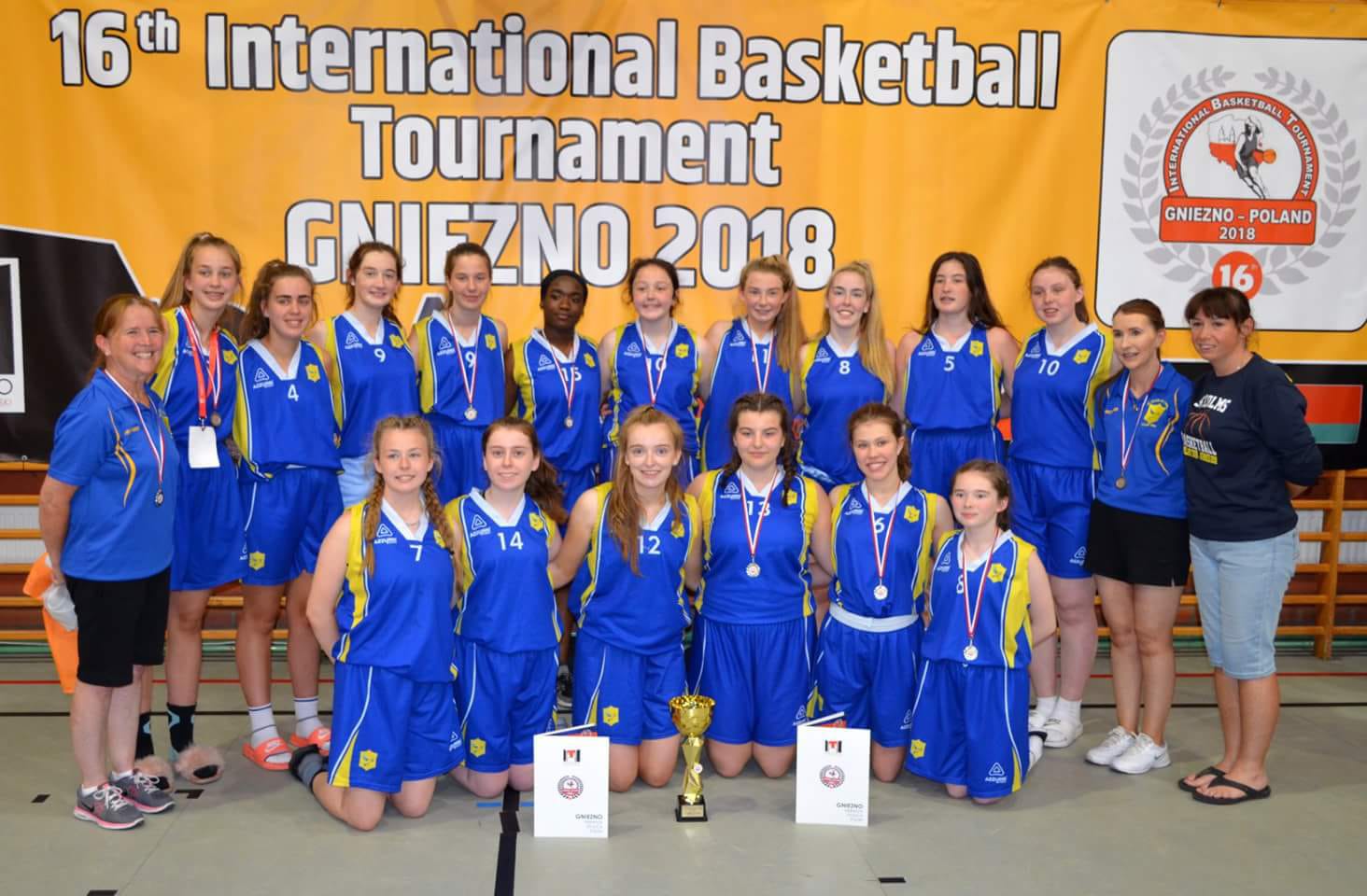 St Colms at Gniezno 2018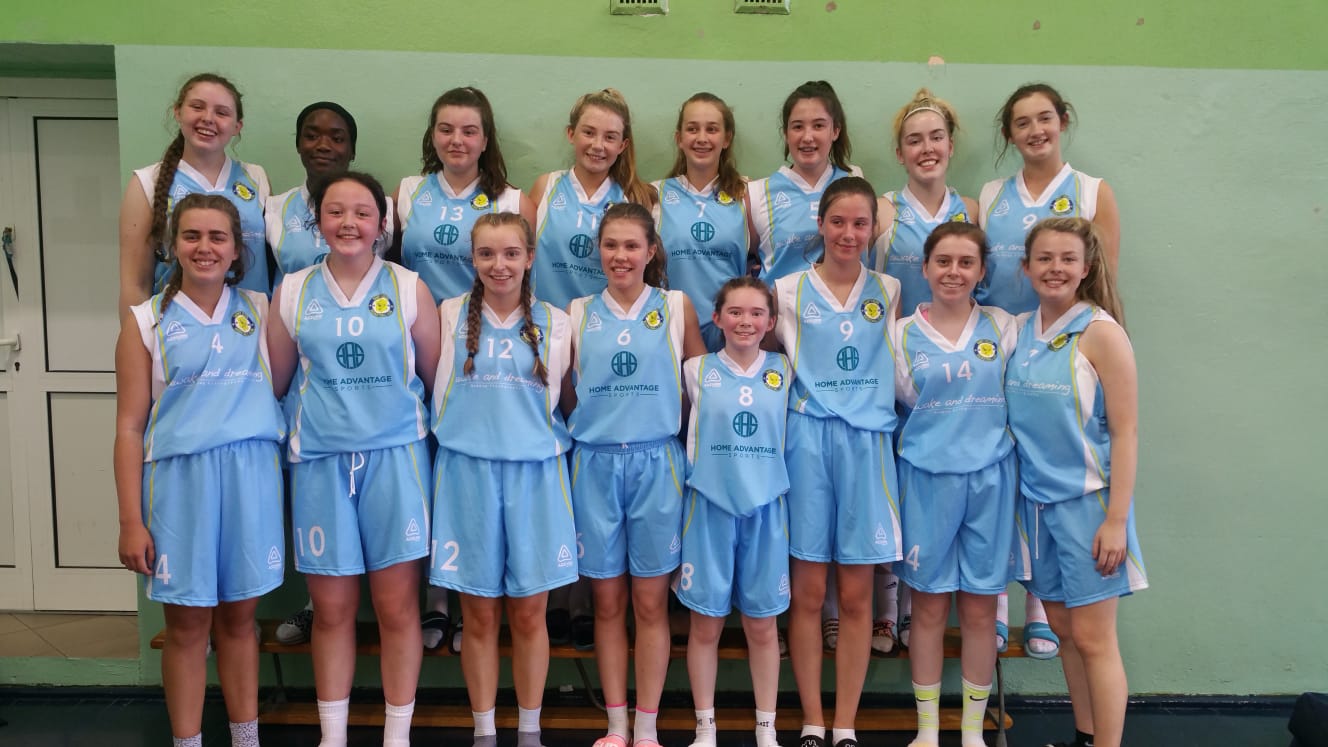 St Colms at Gniezno 2018


14 JANUARY 2019
Our U16 girls were busy last week with two games.On Thursday they travelled to Cork to play Carrigaline in the quarter finals of the Cork Championship and came away with a comfortable victory.
On Saturday they hosted Cobh in the Cork league and maintained their 100% record with a win. This game was competitive in the first quarter with our girls edging it on a score of 14-10. The game was effectively decided in a devastating second quarter performance highlighted by three "3" pointers by Sophie Moore. Our girls outscored Cobh 21-2 to open up a commanding 35-12 interval lead.The second half was played at a sedate pace as our girls comfortably won out on a score line of 50-15.
Top scorers were Sophie Moore 22, Jana Zundel 10 and Abbie Pigott 8.
A number of the U16 girls played up with their U18 counterparts in their Cork League game against Cobh. The girls went into the game without Orla Zundel who will sadly miss the rest of the season with an injury and Izzy Murphy who was away at the Young Scientist week.The girls started the game a little ragged and allowed Cobh to establish an early 9-1 lead. The girls settled and cut the deficit to 10-14 by the end of the first quarter. A change in defence led to Bronagh Dollard marking Cobh's Lena Frost who did considerable damage in the first quarter scoring 13 of Cobh's 14 points. Bronagh did a superb job restricting her opponent to only 5 points for the remainder of the game. With Bronagh on top in her personal battle, the girls were able to dominate the second quarter and opened up a 26-18 interval lead. The girls were very comfortable in the second half and looked to be on course for a routine win as they led by 9 going into the final 2 minutes of the game. Cobh hit a "3" pointer to give themselves hope. A silly turnover by our girls gifted Cobh the ball and they punished our girls with a second "3" pointer. Cobh now had their tails up and astonishingly hit a third "3" pointer to tie the game at 40-40. With 3 seconds to go Cobh were awarded two free throws to win the game. Fortunately for our girls, both were missed so an extra period of 3 minutes was needed. Cobh edged two points ahead before Sophie Moore tied up the game necessitating a second period of overtime. Jana Zundel came to the fore in this period and was faultless hitting 4 free throws under intense pressure. Amy Higgins scored a further basket for our girls to win out 48-42 for a much deserved win.
Jana Zundel had a superb game throughout and was the stand out player scoring 15 points. She was followed on the scoring stakes by Bronagh Dollard, Sophie Moore, Jody O' Halloran and Isabelle Meaney.
The club would like to congratulate Laurel Hill on reaching the All Ireland School Finals at U16 and U19 level in their first year in these competitions and wish them the best of luck in their finals later this month. Our club is strongly represented on both teams with Amy, Jody, Isabelle, Izzy, Orla and Jana on the U19 team and Jana, Lily and Sarah on the U16 team.
Our younger squads are in action next weekend with the U10s, U12s and U14s in action against Glen Cruisers in the North Munster League.